FREE Starter Pack
Tel: 07725 044 808 / 01244 830910
When you start with DEESIDE

L

earners Group, you get your FREE Starter Pack.
This comprises of lots of useful information that will help you to achieve
Passing your Driving Test.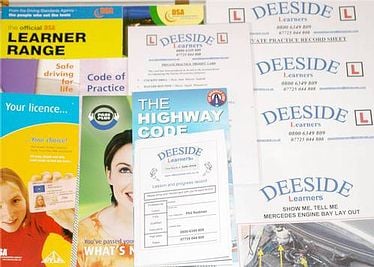 What's included in your

FREE

Starter Pack?
Please note content may vary from that which is listed below
Electronic Link to both

"The

Highway Code" & "Know Your Traffic Signs"
so you always know when your next driving lesson is (Covid-19 restrictions apply)
Student Progress Record Card -
so you can see at a glance just how well you are doing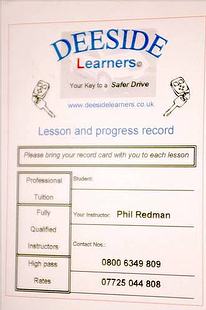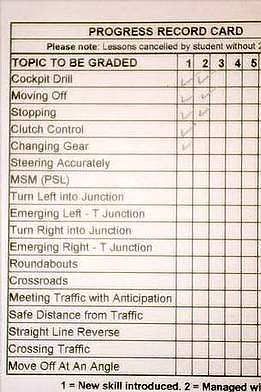 Moving Off and Stopping (Left) -
Explains the basic steps to driving a car

SAFELY
The Hazard Routine tells you what to do, when to do it and it what order - this is the key to learning to drive
At the start of your driving test, the examiner will ask you two question -
One will be before you drive away, the other will be asked whilst you are driving; when the Driving Examiner considers it safe and appropriate.
These are very basic questions that cover routine maintenance and safety of your vehicle.
Your

FREE

Starter Pack has

ALL

the latest questions
"Show Me, Tell Me" Image link
During your 1st lesson, your Instructor will send you a link to this website and
Together with the questions (above) you will be able to see exactly what you are looking for
on the training car that

YOU

will be learning to drive in
Useful Information from the DVSA -
T
he people who set the test
is something that is NOT offered by some other Driving Instructors.
This has been put together by DEESIDE

L

eaners Group
and is tailored to suit YOUR individual requirements.
It is probably the most comprehensive set of information
that you will get with any Professional Driving School.
are always looking for ways to improve our service to YOU.
is one of the many ways you will benefit
by choosing DEESIDE

L

earners Group.